DNA-CP Winslows Sign on the Dotted Line
Georgia
DOB: May 12, 2000
OFA: EXCELLENT AS-17068E24F-PI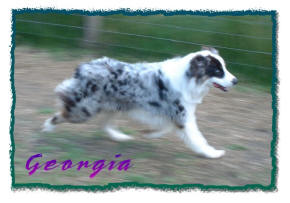 10 pts / 2 ASCA Majors - 2 Best of Breeds from Bred-By over Specials!
Simply flawless coming, going, side movement or even standing!

She has got a GORGEOUS look about her and sweet, outgoing temperament. She will walk right up to the sheep and goats and is simply fascinated with the chickens.

This is her free stacked!

Georgia is periodically being shown in the regular classes. She has several class wins and as well as two BOB over specials with 10 pts/2 majors ASCA. Georgia has an easy going manner, and thinks showing is great (lots of pockets and hands with food!) Georgia has also been started on sheep and is a DYNAMO!

08-10-02

Georgia takes Winners Bitch, Best of Winners AND
Best of Breed OVER Specials for her first 4pt Major!!!
Judge Cheryl Anderson is shown with Georgia. She just couldn't
say enough nice things about this young girl! Thank you Cheryl!

And again . . Winner's Bitch / Best Opposite for 2 pts under Judge Birdie Newbill

And again - BACK TO BACK Wins!
BEST OF BREED OVER SPECIALS FOR HER 2nd 4 pt MAJOR!!!